Renowned experts on the Caucasus region including former President of the Swiss Confederation joined an online panel of experts for "Karabakh Conflict: Lessons for Diplomacy", organized by the Middle East/North Africa Center for Peace and Development at Webster University Geneva. The timely event attracted much attention among students and the diplomatic community alike, with 294 participants via Zoom. (The original event announcement with speaker details can be found here)
Among the Swiss and the global diplomatic community, Micheline Calmy-Rey (pictured above) does not need introduction: she has served twice as the President of the Swiss Confederation (2007, 2011). As a member of the Swiss Federal Council (2003-2011) she headed the Department of Foreign Affairs, so she knows the intricacies of the diplomatic relations surrounding the broader Caucasus region from experience—especially in the long Armenian-Turkish negotiations, where she played the role of the key mediator.
Following a welcome to all panelists from Dr. Clementina Acedo, Director General of Webster University Geneva, Dr. Curtis Doebbler, Webster Geneva faculty member and event moderator, invited each panelist for their remarks.
Calmy-Rey began by setting the broader context for the discussion, stating that while with this recent war Azerbaijan created a new territorial reality, the conflict is not yet over. She further explained that not only the status of Nagorno Karabakh that lies in the balance; that risks for this to transform into a new "frozen conflict" remain.
Alluding to the broader region and the unresolved issues in Armenian-Turkish relations that still need to be addressed, Calmy-Rey said that the Karabakh war should serve as a warning to the UN and the Organization for Security and Co-operation in Europe (OSCE), because such frozen conflicts could lead to more wars. She invited the international community to engage in diplomatic efforts for peaceful solution of the conflicts across the region.
Leila Alieva, an affiliate of Russian and East European Studies at Oxford School of Global and Area Studies, talked about the post-war "ambiguous situation", with Azerbaijan paying a high cost with the Russian intervention for its attempt to restore territorial integrity. She underlined that the current situation is the result of passivity of the West and specifically Europe, and that there is a need for international mediators not as patrons but as normative actors.
Laurence Broaers, associate fellow at Russia and Eurasia Program at Chatham House and Caucasus program director at Conciliation Resources peacebuilding organization, discussed how multilateral diplomacy became with time irrelevant to the Nagorno Karabakh conflict resolution process. Broaers, who is also the author of several publications including the 2019 book entitled "Armenia and Azerbaijan: Anatomy of a Rivalry" (Edinburgh University Press, 2019), discussed the limits of leadership and various failures in the pre-war diplomatic efforts toward conflict resolution.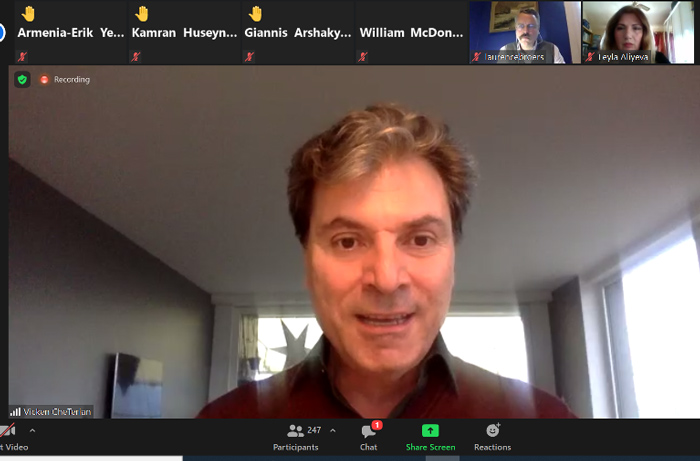 Finally, Vicken Cheterian (pictured above), a faculty member at Webster University Geneva, and author of several books on the conflicts in the Caucasus, reminding participants of the region's shared intercultural heritage that preceded the 20th century, spoke of the attempts for diplomacy and context that followed the previous regional conflict in 1994. He discussed how public opinions in both countries were marginalized, misinformed or simply uninformed throughout the long negotiations process following that first conflict, and therefore that significant parts of these populations were increasingly hostile over time to any compromise as a way to conflict resolution.
It is not possible, Cheterian explained, to advance peace diplomacy without public opinion in support. He concluded by citing renewed interest in post-conflict dialogue and encouraged the active inclusion of civil society in future designs for conflict resolution.
Q&A: Diplomatic Lessons Learned
An open Q&A session with guests followed, although with limited time. When prompted to summarize a key "Diplomatic Lesson Learned" for guests and students in attendance, each panelist shared a final thought, including points by:
Alieva, who posited that increased militarization as a sole response in such a frozen conflict is unrealistic; it will only lead to military action being the chosen resolution;
Calmy-Rey, who shared that direct dialogues are of paramount importance—citing that the recent conflict was a failure of multilateralism, after attempts by the OSCE to set up bilateral dialogues between the respective leaders on both sides did not succeed;
Chetarian, who explained that behaviors and actions of leaders based on propaganda will always fail, as the reality on the ground and actions of civil society will eventually contradict the story being told; and from
Broaers, who concluded by sharing that multilateralism is the alternative and the antedote to aspirations of regional hegemony: that there is a now need for a process of justice, to challenge impunity, for progress toward a sustainable peace in the region.
The MENA Center for Peace and Development at Webster University Geneva extends gratitude to all panelists and contributors, as well as to participants for their comments and questions.